NPAW are firm believers in the capability of real-time alerts for telco and OTT video services. Our intelligent alerts system has always been a lifeline for our customers and so our product team decided to see how powerful we could make it.
At IBC, in September of 2018, we announced our new offering, YOUBORA Suite. This marked a new step for NPAW as we looked to solidify our position as the go-to product when it comes to video analytics.
We didn't want to be a company that just changes their colour palette and logo in order to create some faux publicity. This was an opportunity for us to do more for our customers and improve on our winning formula, offering deeper insights into their data and more platform cross-functionalities that OTTs, broadcasters and telcos can utilize to improve their QoE and grow their business.
Behind the scenes, our product and development teams were working on every aspect of the platform to see how we could improve, optimize and simplify every feature and functionality.
Top of the list for us was our intelligent alerts system, formerly known as SmartAlerts...
Our alerts system is the hub for operational teams looking to stay on top of their platform performance with real-time alerting and anomaly detection for any metric with infinite filtering in order to troubleshoot platform errors and perform root cause analysis. This allows technical teams to reduce first-call resolution time and ultimately save costs by allowing technicians to be more efficient.
SmartAlerts worked great and supported our customers in acting quickly to solve platform problems. However, our product and development teams are perfectionists and saw more potential. So they decided to tackle a few of the issues to create the new intelligent alerts system that is now part of our YOUBORA Analytics product.
So, what were the problems and how did we solve them?
1. Customization
SmartAlerts lay down a great blueprint for our team to work from. With this, we could see the gaps that needed filling, the first being the inability to customize to the extent a customer may need. This led us to the Flow Manager.
The Flow Manager would become the home of alert creation. An easy to understand and very visual way of taking charge of KPIs such as buffer ratio, join time or play failures whether you're tracking fully configurable static alerts or using our smart alerts for automatic anomaly detection.
This new UI approach allows customers to build their configurations in an easy to understand and visual way, giving us the space to make the product more flexible and capable of zeroing in on specific data to remove unnecessary noise.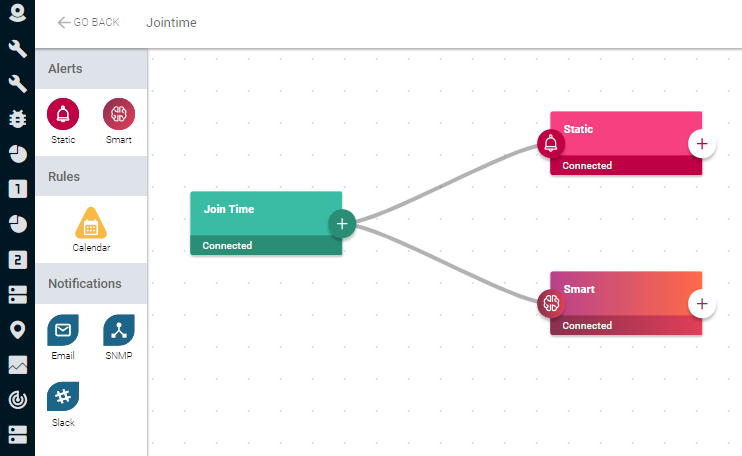 Criticality thresholds for Static Alerts
Alert thresholds allow customers to determine how much of their audience can be affected before they're sent an alert. Allocating work to technical teams requires efficiency and with thresholds, video services are able to state what their minimum number of views affected is to avoid wasting time on anomalies that may only affect a minute proportion of their audience.
For example, when setting a static alert by titles (grouped by titles) and a buffer ratio 'critical' threshold higher than 1%, you can determine that before raising an alert, at least 20% of views have to meet the 'critical' threshold for a specific title to be considered.
Group by any dimension
Alerts can be filtered to focus on specific user segments, however, it is now also possible to receive notifications based on metric performance for every city, country, CDN, among many others..
For example, rather than creating a specific alert for each city individually, customers can just choose to group by city. This means if any city meets the limits a customer sets then they will receive an alert detailing this.
Alerts calendar
Real-time monitoring is paramount for successful video services but this doesn't mean every business can afford to have someone checking for alerts around the clock.
Alerts notifications were available in the SmartAlerts product, however, we've now added a way of deciding when businesses wish to receive these notifications.
It could be that a video service only wants to know about irregular amounts of buffering at prime time on weekdays. With this rule, businesses can simplify their experience and focus on the metrics that matter, when they matter.
2. Smarter Algorithms
SmartAlerts may have been replaced, but our alerts are more intelligent than ever. Our platform uses historical account data to adapt to each customer profile.
With this, our platform understands average KPIs are for all metrics and automatically assigns levels of criticality with this data.
The automatic anomaly detector is perfect for root-cause analysis and in regards to infrastructure, is 100 times as powerful as a static alert in terms of the variables it considers.
Without the need for manual configuration or thresholds to be set, the platform uses machine learning to determine what constitutes irregular platform behaviour and raises significant alerts that can cover unexpected anomalies on any services platform.
Our anomaly detector reads real-time data during streaming and determines whether these events are anomalous or not. For example, when the anomaly system receives 1,000 buffer ratio events over 2%, it will compare this with the regular video platform behaviour to verify if this particular event is relevant enough to proceed with a root cause analysis.
Here is where the genetic algorithm kicks in while developing a root cause analysis of the anomalous events. It is able to analyse a wide range of dimensions that have an effect on that particular event. Not only is it able to find the root cause of the event, but it also provides you with the affected views. Following the previous example, once the anomaly detector determines that an event of buffer ratio over 2% is anomalous, the genetic algorithm will recognize that CDN x, with a particular device type and a particular title, is the root cause of having x views affected.
3. Communication channels

The data that is available through YOUBORA Suite is vital for video services wishing to maintain outstanding QoE and retain customers.
The new intelligent alerts system integrates with Slack and is able to notify through email to make sure that the right team members are notified through the relevant channels. We designed the alerts 'Notifications' section to be scalable. As we continue to grow, we will be integrating with more platforms to notify our end users with their most valuable channels.
Additionally, notifications may be sent to any SNMP to send data to agents that can process the information either through automated processes or be ingested and manually correlated with server statuses to better understand where the cause of failures may be coming from.
---
To benefit from this redesigned and remastered feature, speak to one of our team and learn everything about YOUBORA suite as well as how it can transform your video service - sales@nicepeopleatwork.com